Sunday, November 12, 2006, beginning at 12:01 am is Emergence Day.

Emergence Day is (choose one):



The day Nancy Pelosi and Harry Reid "emerge" as the new leaders of the United States Congress.




The day Osama Bin Laden and the leaders of Al Qaeda "emerge" from hiding and launch the next wave of terror.




The day when the Locust Horde "emerge" from the ground to devour all mankind.
Unless you knew the answer was Number 3, "the day when the Locust Horde 'emerge' from the ground to devour all mankind," you are sadly unaware of one of the greatest cultural events since the very creation of the Internet.
I'm not joking.
Beginning just a few minutes from right now tens of thousands of people all across North America will log onto the Internet, not in the conventional fashion using a PC or a Mac, but using Microsoft's XBox 360, to engage in a series of tournaments, contests, challenges and events all based around a new XBox 360 supergame called Gears of War.
Wade Steel, writing for ign.com, gives the background:
"Ever since the announcement of the Xbox 360, one game has consistently been held up as an early "must-have" for Microsoft's next-generation console -- Gears of War."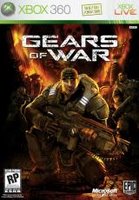 "For nearly two years, gamers have watched as Epic Games' third-person shooter tempted and teased with its promise of a dark sci-fi plot, incredible graphics powered by Unreal Engine 3, and brutal, visceral combat."
"Today, that wait comes to an end as Microsoft and Epic announce that "Emergence Day" -- the day Gears of War ships and gamers finally get to engage the terrifying Locusts -- is November 12, 2006."
In addition to a quality of graphics, writing and direction that sets new standards for video games, Gears of War is unique in it's very design and purpose. The ign.com review states:
"Gears of War is all about teamwork in a big way. All game modes, levels and scenarios are designed specifically to encourage co-operative play, whether it be with A.I. partners or human players (with A.I. teammates designed with specific strengths, weaknesses and personalities.) "
"On top of that, voice recognition will be available for players, and obviously voice chat to discuss strategy with your friends. In addition to voice chat, gamers will be able to experience individualized matchmaking, view player statistics, earn player achievements, customize their games, and build and personalize their gamer profiles over Xbox Live."
Among the wealth of events surrounding Emergence Day are the following:



A 24-Hour Leader board Tournament.

The tournament winner receives a one of a kind "Gears of War" branded guitar as well as an automatic bye to the finals of a Global "Gears of War" Tournament planned for 2007.

Hourly sweepstakes drawings and prize giveaways including the chance to win one of several Samsung HT-P29 Dolby 5.1 Surround Sound Systems

An exclusive free "Gears of War" Gamer pic and theme only available on Emergence Day

Game with Fame sessions with legendary heavy metal band and "Gears of War" fans Megadeth, the game's lead designer Cliff Bleszinski and other members of the Epic Games team

Never before seen videos including a special Emergence Day transmission from Cliff Bleszinski

An MTV "Gears of War: The Road to Launch" Sneak Preview
If you read all this and think it's just some silly promotion from Bill Gates and Microsoft, you are clearly missing the entire point.

This is a cultural event that transcends state and national borders, economic strata, age and gender groups, political parties or affiliations, religious affiliations, sexual orientation and any boundary that tends to separate humankind into different groups.

Here we have an event that will tie together, in a massive number of people in tournament play, people from all across North America. The internet has removed any of the old boundaries of space or culture and allowed tens of thousands of people to gather together in a single, albeit cosmic, space and time.

And to dismiss this all as a game also misses the point of what is happening today. The Internet has now reached a new level to bring people together at a single moment for a single purpose. Today that purpose is a tournament the like of which has never existed at any time before on the planet.

Tomorrow it could be voting in elections, or actually making governmental or cultural decisions.

The Internet, if properly protected and allowed to remain free, has more power than any invention in the history of mankind. That's precisely why some governments like Iran and China fear it so very much.

And that's why is must be protected. Today the locusts, tomorrow the world.



TECHNORATI TAGS:
EMERGENCE DAY
XBOX
MICROSOFT
LOCUST HORDE
INTERNET
GEARS OF WAR
EPIC GAMES
MTV
XBOX LIVE
BILL GATES
DIGG THIS
SAVE THIS PAGE TO del.icio.us